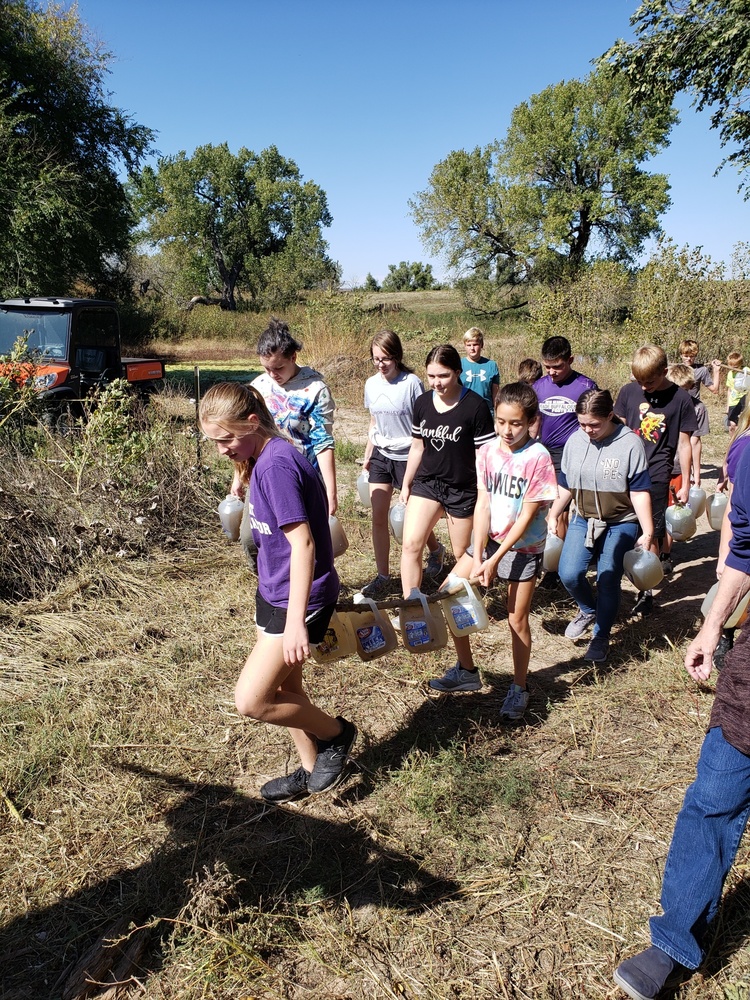 A Long Walk to Water
M. Friesen
Wednesday, October 30, 2019
"A Long Walk to Water"
Our Meade Junior High students are joining other junior high students in the SPIAA League in reading a novel this fall, A Long Walk to Water by Linda Sue Park. The story introduces us to two people; Nya, a young girl in Southern Sudan who, every day, journeys an eight hour walk to the pond in order to fetch water for her family, and Salva, who, at the age of eleven, walks away from his war-torn village in Southern Sudan. He is a "lost boy" refugee who covers Africa on foot, searching for his family and safety. Their stories intersect in a fascinating, grueling, and heart-warming manner.
MJH students got a taste of what these characters experience by taking their own "long walk" to water. Students took empty jugs to Dr. Scott and Lori Crain's property where a pond is located. Students used creativity and teamwork to find ways to fill their jugs. Then, their long walk back to school began. The unseasonable heat that day added to the experience and showed students how difficult life can be for the people in Sudan.
Many thanks to the Crains, Meade Recycling Center, and the MJH teachers for helping to make this story come to life for our students.