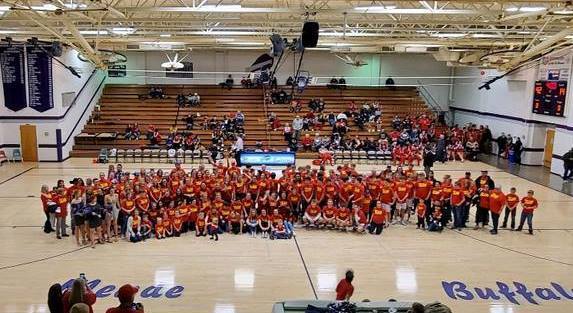 February 03 - 08
S.Cordes
Sunday, February 02, 2020
CONGRATULATIONS to our homecoming King Treston Cook, and our Queen Alison Unruh! Our Buffaloes scored a homecoming victory by defeating the Larks by a score of 61-29. Good work, boys!
Monday Night Basketball News: This is the game night that was rescheduled from Friday, January 17th. Our first grade will host a sloppy joe meal during the MHS vs. Lakin game. The $5.00 meal includes a sloppy joe sandwich, chips, brownie, and water or tea. They appreciate your support! Our MHS Booster Club will recognize their members between the varsity girls' and boys' games. The Meade Citizen of the Year will be honored during halftime of the varsity boys' game.
GOOD LUCK to our MHS Scholar's Bowl team! They will travel to Rolla to compete in their Regional Scholar's Bowl Tournament.
MJH Basketball Update: Our Buffalo teams finished their regular season games last week at Cimarron. Our A boys defeated the Jays by a score of 33-25. Our B boys fell short losing by just three, 22-25. Our C boys scored a nice win to end their season. They conquered the Jays by a score of 19-11. This week our Lady Buffaloes and Buffalo teams will participate in the HPL tournament. The games begin Wednesday in Lakin. You can find the game schedule below. Updated brackets will be posted on our Live Feed and social media accounts when they are made available.
GLOW RALLY - Our MHS Cheerleaders invites everyone to attend their annual Glow Rally. The fun will begin at 12:30pm Friday, February 8th at MHS. There will be lots of music, fun games, and laughs! Make plans to attend and join in the fun.
Hall of Fame Inductions: The induction ceremony for MHS Activities Hall of Fame will take place Friday evening between the girls' and boys' varsity games. This year's individual inductees include: Leon Burtnett, Shirley Branson, Ron Ryckman, and Heather Easterday. We will also induct the 1980 State Champion Volleyball team and the 1980 State Champion Football team. Congratulations to our newest Hall of Fame inductees!
Purple Calendar Corrections: Our MJH Quiz Bowl team will NOT participate in the Seymore Rogers meet in Liberal Tuesday. The MHS vs. Kiowa County-Greensburg basketball game begins at 4:45pm.
BASKETBALL PRACTICE
Girls >> MHS
Boys >> DP Gym
MONDAY, February 03:
*MHS Basketball 4:45pm @ Meade vs. Lakin
~4:45pm – JV Girls @ MHS; JV Boys @ DP Gym
~6:30pm – C Boys @ DP Gym; Varsity Girls @ MHS > Booster Club Recognition immediately following the game.
~8:00pm – Varsity Boys @ MHS > Citizen of the Year Recognition during half time.
TUESDAY, February 04:
*MHS Basketball 4:00pm @ Greensburg/Kiowa County; Leave @ TBD
~Auxiliary Gym @ 4:45pm – JV Girls >> JV Boys >> ½ C Boys
~Varsity Gym @ 6:30pm – Varisty Girls; 8:00pm – Varsity Boys
WEDNESDAY, February 05:
*MJH-HPL Tournament 10:00am @ Lakin; Leave TBD
~A Girls 12:30pm vs. Sublette in the LHS Big Gym
~B Boys 1:45pm vs. Syracuse in the LGS Gym
~A Boys 3:00pm vs TBD in the LMS Gym
THURSDAY, February 06:
*MJH-HPL Tournament Semi-Finals 1:00pm @ Syracuse; Leave TBD
*Regional Scholar's Bowl @ Rolla; Leave @ 2:00pm
*MHS Forensics @ Kinsley; Leave @ 1:45pm
FRIDAY, February 07:
*Glow Rally 12:30pm @ MHS
*MHS Basketball 4:45pm @ MHS vs. Cimarron
~3:30pm @ MHS>> C Boys
~4:15pm @ MHS >> 1/2 JV Girls
~5:00pm @ MHS >> JV Boys
~6:30pm @ MHS >> Varsity Girls
~8:00pm @ MHS >> Varsity Boys
*Hall of Fame Inductions will take place immediately following the girls' varsity game.
SATURDAY, February 08:
*ACT Test @ MHS
*MHS Forensics @ Bucklin; Leave @ 6:15am
*MJH-HPL Tournament Finals 1:00pm @ MHS & DP Gym