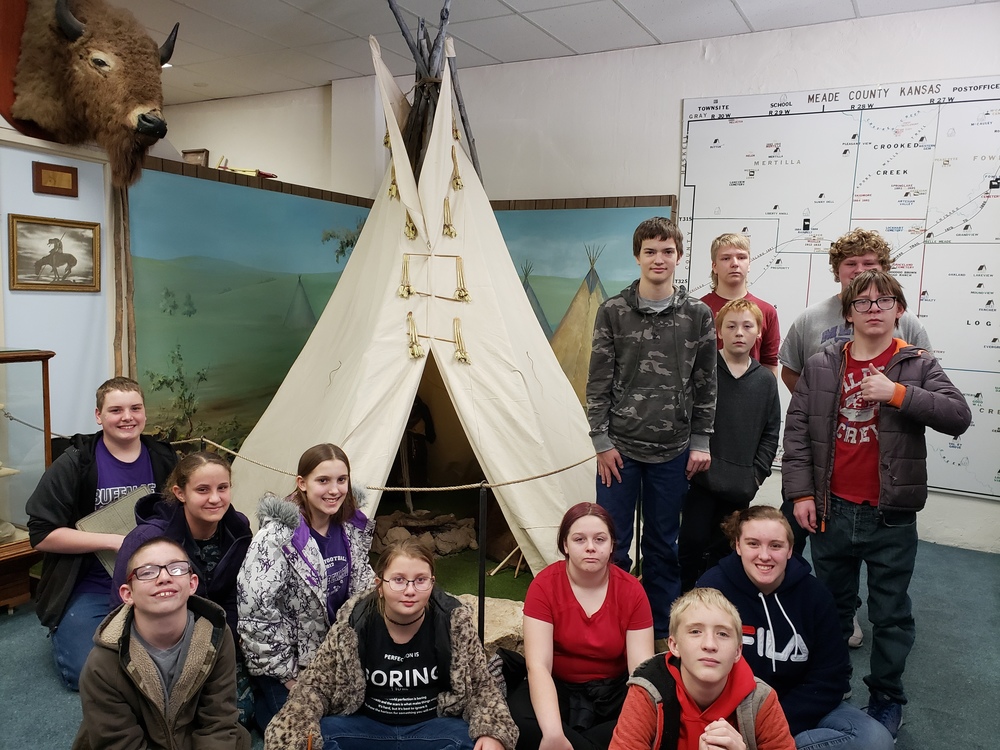 February 10 - 15
S.Cordes
Sunday, February 09, 2020
CONGRATULATIONS to our MJH Basketball teams! Our teams participated in the HPL tournament last week. GOOD WORK, MJH!
MHS Basketball News: Our MHS Basketball teams will host home games this week. Tuesday we will host Central Plains. The Minneola Wildcats will be coming to town on Friday. It looks to be a week of great basketball.
Our MJH Quiz Bowl team will host their home meet for the season Monday afternoon. The competition begins at 4:30pm at MJH. The public is invited to attend. Be ready to be super-impressed by our MJH team's cognitive abilities!
A BIG BUFFALO THANK YOU to everyone who supported our NHS t-shirt fundraiser! We appreciate your generosity.
Valentine Date Night Murder Mystery Dinner Theater - The Meade High School Forensics Team proudly presents "Dead 2 Rights" by Lee Mueller. At the annual meeting, Archetypical Corporation CEO Gordon Mullens believes profits are looking up. But the meeting takes a turn for the worse as the administration deals with technical difficulties, a double booking, and finally, a murder! Now, if only they could find someone to help solve the mystery. #MeetingsAreMurder. Come join in the excitement and use your detective skills to solve the case! February 13th, 2020, 6:30 pm in the high school commons. Dinner tickets are $10/person. Childcare services available for $3/child (kid friendly meal will be served). Contact Amanda Barnum, Lori Coles, or any forensics student to purchase a ticket (must be purchased in advance by Monday, February 10th).
Friday evening we will recognize our MHS Senior athletes and their parents. We appreciate their dedication to MHS and are proud of their accomplishments. The recognition will take place immediately following the varsity girls' game.
Our MHS Kayettes will host their annual Singing Valentines on Valentine's Day. Contact Tanya Marceau for more information on how to order your someone special a fun little token of your love.
ENJOY a safe, fun, and relaxing three-day weekend! We will not have school Monday in observance of President's Day. School will resume on Tuesday, February 18th.
BASKETBALL PRACTICE
Girls >> DP Gym
Boys >> MHS
MONDAY, February 10:
*MJH Quiz Bowl 4:30pm @ Meade
*USD 226 Board of Education Meeting 6:00pm
TUESDAY, February 11:
*MHS Basketball 3:30pm @ Meade vs. Central Plains
~JV Girls 3:30pm @ MHS
~JV Boys 4:30pm @ MHS
~Varsity Girls 6:00pm @ MHS
~Varsity Boys 7:30pm @ MHS
WEDNESDAY, February 12:
THURSDAY, February 13:
*MJH Quiz Bowl 4:30pm @ SWHJH; Leave @ 3:15pm
*MHS Forensics Murder Mystery Dinner Theater 6:30pm @ MHS
FRIDAY, February 14:
*Kayette Singing Valentines
*Senior Night *MHS Basketball 4:00pm @ MHS vs. Minneola
~4:00pm - C Boys
~5:15pm - JV Boys
~6:30pm - Varsity Girls
~8:00pm - Varsity Boys
SATURDAY, February 15:
*MHS Forensics @ Kiowa County/Greensburg; Leave @ 6:00am
MONDAY, February 17: NO SCHOOL
~Happy President's Day!