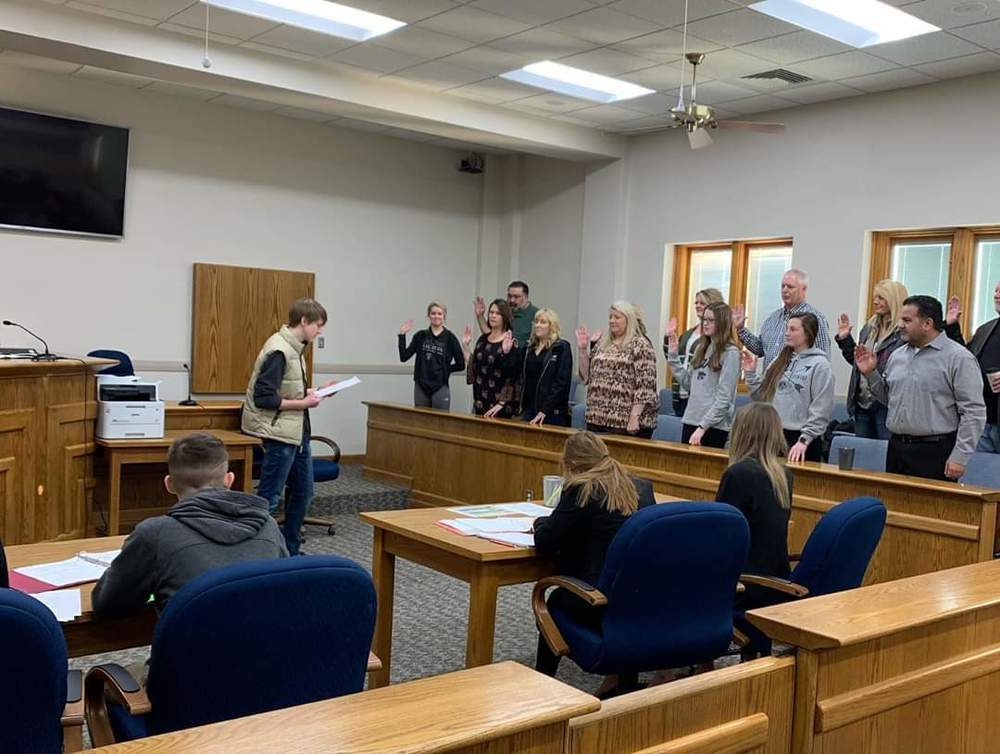 March 09 - 28
S.Cordes
Sunday, March 08, 2020
CONGRATULATIONS to our MHS Basketball teams on a great season! Our Buffaloes were the Regional Champions. Our Lady Buffaloes were the Regional Runners-up. Our girls took an early sub-state loss to a tough Cunningham team. Our boys fought hard in the sub-state championship game, even going into OT, but could not come up with the win. We are so proud of our athletes and the season they gave us. GOOD WORK, MHS Basektball!
Mr. Rempel and his 4th through 6th grade students have been busy preparing a great night of musical fun for you. Please join them Tuesday, March 10th for their special performance of "Hats!" Many hats of all shapes and sizes will take over the stage. We will discover that it's not the hat that makes a person special, but what's underneath! The performance will take place at 7:00pm in the MES/MJH auditorium.
Lifetouch will be at MES/MJH Wednesday, March 11th for Spring Portraits and class photos. Families can order online by visiting mylifetouch.com. Our Picture Day ID for individual portraits is EVT3KSWBW. Our school Picture Day ID for class pictures is EVT3BC6XH.
We will not have school Friday, March 13th. A teacher's workday will take place from 8:00am until noon. Spring Break is scheduled for March 16th. through the 20th.
Dr. Seuss Day will be celebrated on Monday, March 23, 2020 at the Meade Grade School. We have many wonderful events planned for the day. There will be a talent show, Garden City zoo animals, veterinarian session, reading books, making crafts, playing games, blanket signing, and watching a movie. Of course, our PK-6th grade students are encouraged to wear their pajamas to school for the wonderful celebration.
Conferences will take place Tuesday, March 24th. Our preschool through 4th grade teachers will meet with parents by appointment only. Our 5th-12th grade students will be hosting Student-Led Conferences; therefore, all students will participate in the conferences.
The Mini-Spelling Bee is scheduled for Wednesday, March 25th at 9:00am in the MES/MJH auditorium. The public is invited to attend and support our spellers! This year's super spellers are:
Mrs. Foster's 1st grade class - Milo Bussen, Andelyn Reimer, Karstyn Osborn, and Kaycee Busbee.
Mrs. Lauppe's 1st grade class - Ella Doney, Libby Ediger, Grady Krier, and Addisyn Ramsey.
Mrs. Reimer's 2nd grade class - Godwil Muthiani, Reese Rio, Ava Tacha, and Ethan Eugenio
Mrs. Martin's 2nd grade class - Tyson Krier, Aveta Vieux, Nielle Banuelos, and Addy Bobo.
Mrs Keith's 3rd grade class - Katelyn Cordes, Kenna Cordes, Levi Kane, and Teghan Rosendahl.
Ms. Hartnett's 3rd grade class - Joey Hicks, Kemper Flavin, Abby Osborn, and Jeff Spann.
Mr. Powell's 4th grade - Logan Bird, Cason Stapleton, Tate Jones, and Peter Dale.
Our MJH track team will have their team and individual pictures taken Thursday, March 26th. Our MHS spring athletes will have their team and individual pictures taken Friday, March 27th.
SPRING BREAK >> March 13th – 22nd
MONDAY, March 23:
*Dr. Seuss Day @ MES
TUESDAY, March 24:
*Parent-Teacher Conferences 4:00-8:00pm
WEDNESDAY, March 25:
*MHS-HPL Forensics @ Cimarron; Leave @ 6:20am
THURSDAY, March 26:
*MHS Forensics @ South Gray; Leave @ TBD
*MJH Track Team Pictures
FRIDAY, March 27:
*MHS Spring Sports Pictures
SATURDAY, March 28:
*MHS Regional Music @ Dodge City