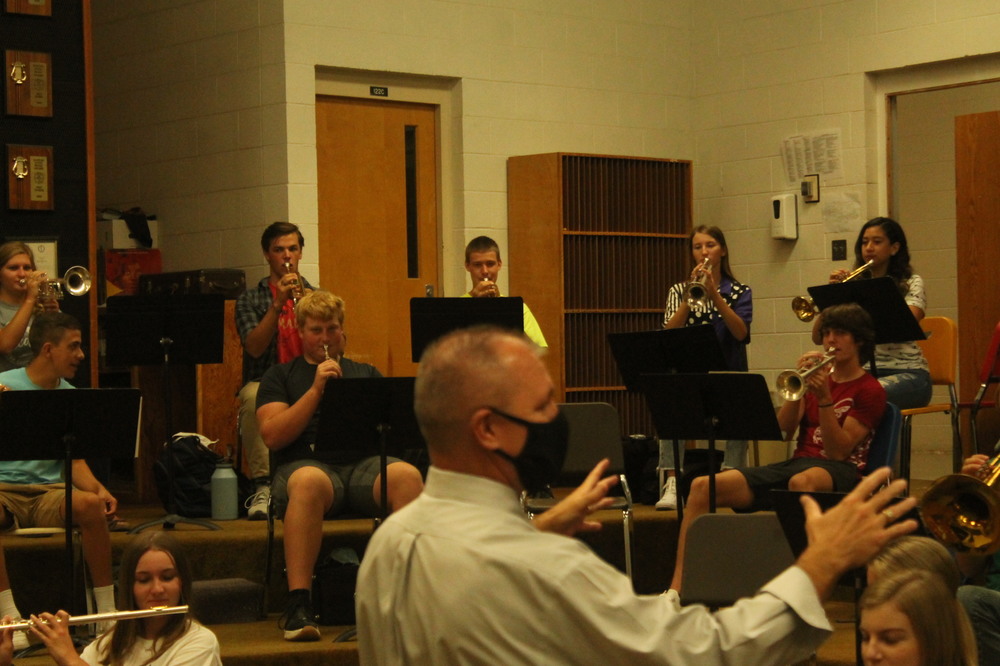 September 07 - 12
S.Cordes
Sunday, September 06, 2020
Our MHS students have the opportunity to purchase a class ring Wednesday. Representatives will be in the MHS Commons at 5:45pm until 7:00pm. Please stop by to view the variety of options and place your order. Please contact the high school office for more information.
It is that time of year when our 5th grade students have the opportunity to select their band instrument. The Senseney representative will be at MES in the Band room Tuesday at 6:30pm. Please contact the MES/MJH office for more information.
Our MHS Lady Buffalo Volleyball went 2-1 in Bucklin. They scored nice wins over Pawnee Heights and Kinsley, but lost to Bucklin in three. This week our Lady Buffs will host Jetmore, Ashland, and Rolla. Play begins at 4:00pm.
Our MHS Cross Country teams will travel to Hesston Thursday. Our Lady Buffs will run at 4:15pm followed by our Buffaloes at 4:40pm. Please note that Hesston is allowing only two spectators on the course per runner. Spectators will not be allowed at the finish line. Additionally, spectators will need to wear a mask if they cannot maintain physical distancing.
Our Lady Buff tennis team will travel to Cimarron Tuesday. Play will begin at 3:00pm. South Barber results: Abby Klassen (2S) 3rd place, Hailey Ellis and Karson Jones (1D) 3rd place, Kaya Hartnett (1S) 4th place, Lily Ritter and Holly Reimer (2D) 4th place.
Our junior high teams will host the South Gray Rebels Thursday. All competitions will take place at MHS. Our volleyball team takes the court at 4:00pm followed by our football team at 6:30pm. Hodgeman County results: Our A team volleyball girls won against Hodgeman County and Pawnee Heights. Our B and C teams lost to Hodgeman County. They did not play against Pawnee Heights. Our football team won against Hodgeman County by a score of 28-0.
Friday evening our MHS football team travels to Ingalls. Kick-off is set for 7:00pm.
Anytime is a GREAT time to join the MHS Booster Club. Our Booster Club supports ALL MHS activities. Please contact any Booster Club member if you would like to join our Booster Club. You can follow our Booster Club by liking the Meade Booster Club Facebook page.
Membership Levels:
White- $150.00
Purple- $75.00
Silver- $25.00
Monday, Sept. 07:
*NO School - Happy Labor Day!
Tuesday, Sept 08:
*Senseney Band Display 6:30pm @ MES/MJH
*MHS Tennis 3:00pm @ Cimarron; Leave @ 1:45pm
*MHS Volleyball 4:00pm @ Meade
Wednesday, Sept 09:
*Class Ring Sales 5:45-7:00pm @ MHS Commons
Thursday, Sept 10:
*MHS Cross Country 4:00pm @ Hesston; Leave @ 12:00pm
*MJH Volleyball 4:00pm @ MHS vs. South Gray
*MJH Football 6:30pm @ MHS vs. South Gray
Friday, Sept 11:
*MHS Football @ Ingalls; Leave @ 4:00pm
Saturday, Sept 12:
*MJH Volleyball 9:00am @ Lakin; Leave @ 7:00am
*MHS JV & V Volleyball 9:00am @ Sublette; Leave @ 7:00am