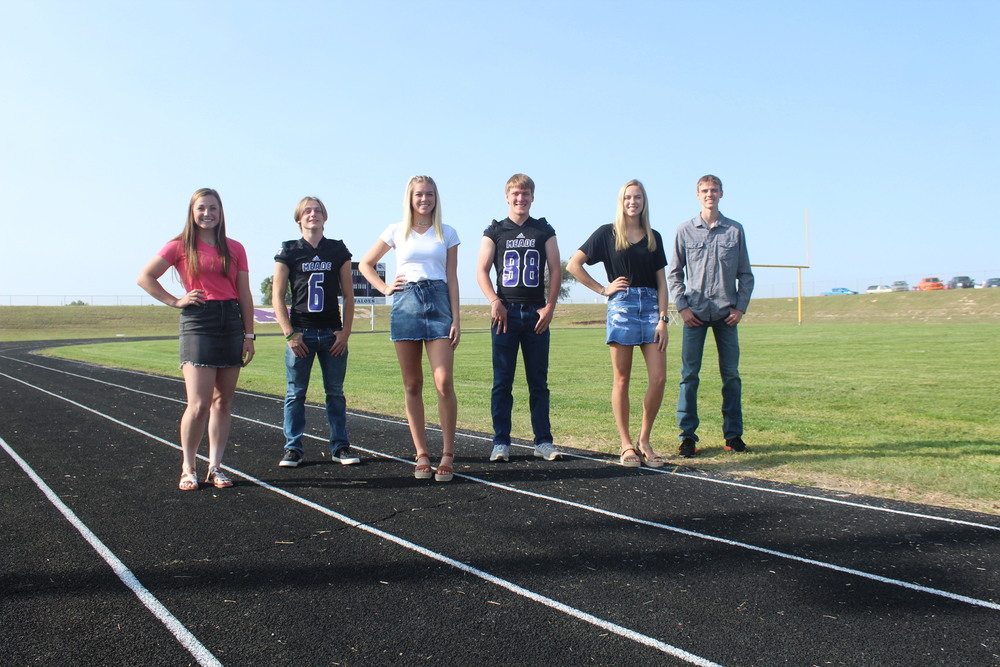 October 19 - 24
S.Cordes
Sunday, October 18, 2020
It is a busy week for our USD 226 students and staff. Our high school will celebrate Spirit Week along with competing in volleyball, football, and cross country. Our MJH students just finished their fall sports season and are starting basketball practice this week. Friday marks the end of the first term. Students will be dismissed at 1:00pm on Friday.
GOOD LUCK to our MHS Cross Country team. They will travel to Tribune-Greeley County for their Regional meet. Our Lady Buffs will begin their race at noon CST. Our Buffaloes will race at approximately 12:40pm. The top four teams and top ten individual runners will advance to State with the possibility of additional individual qualifiers. Let's go, MHS Cross Country!
GOOD LUCK to our MHS Volleyball team! Their sub-state tournament will take place in Syracuse Saturday. Play begins at 1:00pm CST. The winner of the sub-state tournament will advance to the quarterfinal match. Quarterfinal matches will be hosted by the winner of the even-numbered sub-state tournaments. We are in tournament #1, so we would NOT host the quarterfinal matches. Win Sub-State, girls!
Our MJH students will start their basketball season this week. Our Lady Buffs will be coached by Kristen Stapleton and Laureen Coles. Garrett Daugherty and Marcy Lynn will coach our Buffalo team. Practices will be in the DP Gym this week. The girls will begin at 2:50pm. The boys will begin at 4:30pm.
GOOD LUCK to our MHS Scholars Bowl team! They begin their season in Ashland this week. This year's team is coached by Lori Bigler and Tanya Marceau.
It is Spirit Week at MHS! This year's queen candidates are Trinity Woods, Lauren Christensen, and Katie Welsh. Our king candidates are Wyatt Kramer, Preston Miller, and Vance Shewey. Our students will enjoy a MHS bonfire Monday evening. StuCo is sponsoring a dodgeball tournament during the week. The King and Queen crowning will take place Thursday evening at 7:00pm at the football field. The public is invited to attend the coronation, but is asked to social distance and wear a mask when distancing is not possible. Our high school will end their Spirit Week with Senior Night for our football, cheerleaders, and cross country seniors. Congratulations to our MHS senior student-athletes and their parents. We are so proud of you and appreciate your commitment to MHS.
Anytime is a GREAT time to join the MHS Booster Club. Our Booster Club supports ALL MHS activities. Please contact any Booster Club member if you would like to join our Booster Club. You can follow our Booster Club by liking the Meade Booster Club Facebook page.
Membership Levels: White- $150.00 Purple- $75.00 Silver- $25.00
Monday, Oct 19:
*FIRST DAY OF MJH BASKETBALL PRACTICE
*MHS Scholars Bowl 3:00pm @ Ashland; Leave @ 2:00pm
*MHS Volleyball 5:00pm @ MHS vs. Ingalls
*MHS JV Football 6:00pm @ MHS vs. Ness City
*MHS Bonfire @ 8:00pm - Students only
Tuesday, Oct 20:
*MHS Volleyball 4:00pm @ Minneola; Leave @ 2:15pm
Wednesday, Oct 21:
Thursday, Oct 22:
*MHS Homecoming Coronation 7:00pm @ MHS - The public is invited to attend.
Friday, Oct 23:
*END OF FIRST TERM - 1:00pm Early Dismissal
*MHS Football 7:00pm @ MHS vs. Hodgeman Co.
*Senior Night* @ 6:40pm
Saturday, Oct 24:
*MHS Regional Cross Country @ Tribune-Greeley Co. Leave @ 7:30am
*MHS Sub-State Volleyball 1:00pm @ Syracuse; Leave @ 9:30am