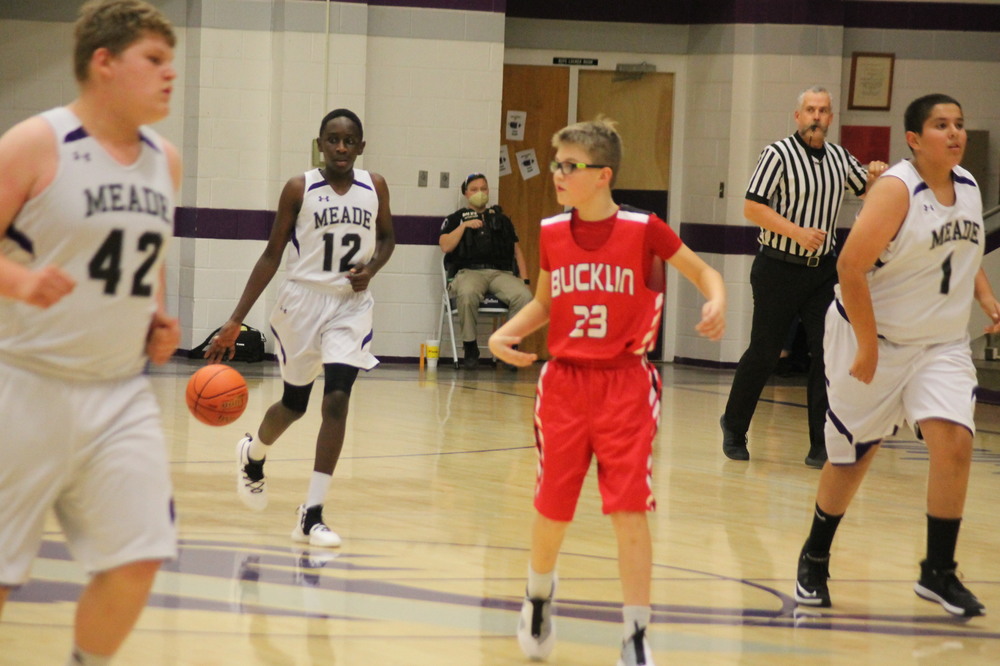 November 23 - December 05
Stacy Cordes
Sunday, November 22, 2020
This is a short week, only two school days. We hope everyone is able to enjoy a safe and relaxing Thanksgiving holiday. The week after we will welcome in the month of December and add high school basketball games to our schedule.
In the next two weeks our MHS Scholar's Bowl teams will travel to Rolla, Cimarron, and Pawnee Heights. Good luck, MHS Scholar's Bowl!
Due to the COVID-19 outbreaks in our league, our MJH basketball schedule is very inconsistent at this time. Games, locations, times, and opponents will be announced through our LiveFeed, Facebook, and Twitter pages. Please check those news outlets for the latest, most accurate information. Our athletic director and administration are working hard every day to keep games on our schedule to ensure our student-athletes are able to compete.
Last week our MJH Buffaloes hosted the Bucklin Deuces. Our A-Team was defeated by the Deuces. Our B-Team added another win to the season, defeating Bucklin by a score of 35-6. Our C-Team played two quarters. They lost by a score of 4-5. It was three close games against SWHJH. Unfortunately our Buffaloes couldn't come up with a win. Our A-Team lost by a score of 20-26. B-Team lost a nail-biter, 27-29 and C-Team came up two points short, losing by a score of 23-25. Our teams will travel to Protection on Thursday, December 3rd to take on the South Central Timberwolves.
Our MES/MJH Christmas program will NOT take place Tuesday, December 1st. It has been postponed as we are working out the details of how to best showcase our students' musical talents in an online setting. This will allow parents, grandparents, and friends near and far to enjoy our program. Our students will record their songs and performances while at school. The recording will be available to the public. Information regarding the date, times, and link will be provided as soon as they are made available. Thank you for your understanding and patience.
GOOD LUCK to our MHS Basketball teams! They begin their season Friday, December 4th in Rozel-Pawnee Heights. Games will begin at 4:00pm.
Please remember we are implementing attendance guidelines for attending any USD 226 activity or event. The limited seating guidelines continue to be in effect. This is an action allowed for in our Gating Criteria when the district moves to YELLOW. A total number of tickets for each school will be determined by calculating 4 tickets per player. All junior high and high school games will be played at the MHS Gym because of the much higher seating capacity.
BASKETBALL PRACTICE
Girls >> MHS
Boys >> DP Gym
Monday, Nov 23:
*MJH Boys' Basketball 4:30pm @ MHS vs. SWHJH
--C-Team > B-Team > A-Team
*MHS Scholar's Bowl 4:00pm @ Rolla; Leave @ 2:15pm
Tuesday, Nov 24:
Wednesday, Nov 25-Friday, Nov 20:
NO SCHOOL! Enjoy a safe and happy Thanksgiving!
BASKETBALL PRACTICE
Girls >> DP Gym
Boys >> MHS
Monday, Nov 30:
Tuesday, Dec 01:
*MHS Scholars' Bowl 4:00pm @ Cimarron; leave @ 3:00pm
Wednesday, Dec 02:
*MHS Scholars' Bowl 4:00pm @ Pawnee Heights; leave @ 2:00pm
Thursday, Dec 03:
*MJH Basketball @ Protection/South Central
Friday, Dec 04:
*MHS Basketball 4:00pm @ Pawnee Heights; Leave @ 1:15pm & 2:00pm
Saturday, Dec 05:
*MJH Basketball 9:00am @ Beaver; Leave @ 6:30am