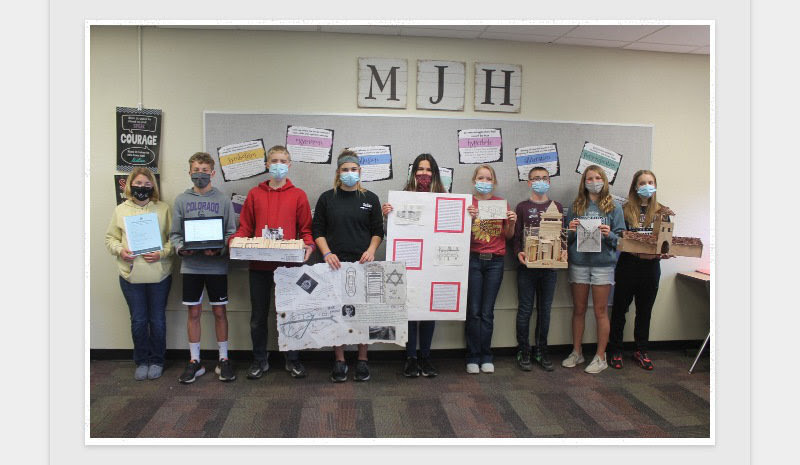 April 05 - 10
S. Cordes
Sunday, April 04, 2021
There are a of lot events and activities happening this week! Check out the list below to see what teams are competing where and when.

GOOD LUCK to our MJH Math Team! They will compete in the SPIAA Math Contest this Wednesday. Our 7th grade team is comprised of Abbie Gipson, Ashley Martin, Kate Parker, and Bethany Reimer. Our 8th grade team includes Maya Doney, Tayte Flavin, Walker Koons, and Jobjosiah Muthiani. They will compete in three sections: Mental Math, Problem Solving, and Geometry. Our MJH Math teams are coached by Mr. Gleason.
Prom is happening this weekend! The promenade will begin at 6:15pm at the Meade City Park. The public is invited to attend. Please park at the basketball courts or in the swimming pool parking area. The dinner and dance will take place at the Forst Center beginning at 7:00pm.
Please note that our MHS track team will compete in Minneola this week. The meet begins at 3:00pm. Shocker Pre-State will take place Thursday, April 15th and Friday, April 16th.
REMINDER: Our PS-8th grade students will not have class on Wednesday, April 7th. MES/MJH will be hosting the SPIAA Junior High Math Contest.
ATTENTION SENIORS: Your pictures for the senior panel are due to the office by Friday, April 23rd!
Forensics News: The State Championships and Festival will take place via Zoom this year. They will not be hosted in Wichita.
TRACK INFORMATION: This year all our SPIAA league track meet results will be posted on Mile Split KS. Please visit the website for a complete list of meet results.
SPORTS PHYSICALS: Sports physicals for our MES/MJH students will take place Tuesday, May 11th. This will be for ALL 6th-8th grade students intending to participate in any KSHSAA sport for the 2021-2022 school year. This will also be for any MES student, currently in 2nd through 5th grade, intending to play rec football next school year. The MHS physicals will take place on Tuesday, May 4th. These physicals will be for all 9th-11th grade students planning to participate in a KSHSAA-sponsored sport during the 2021-2022 school year. The cost of the physical is $25.00. The money is due at the time of the physical. Please contact the school if you have any questions.
There will be a special BOE Meeting at 7:00pm on Wednesday, April 7th.
MONDAY, April 05:

TUESDAY, April 06:
*MHS JV Golf 3:00pm @ Protection/South Central; Leave @ 1:00pm
*MHS JV Tennis 3:00pm @ Cimarron; Leave @ 1:45pm
WEDNESDAY, April 07:
*NO SCHOOL for PS-8th Grade
*SPIAA Junior High Math Contest 9:00am @ MJH
*Special BOE Meeting 7:00pm
THURSDAY, April 08:
*MES/MJH Site Council 7:00am
*MHS Golf 1:00pm @ Coldwater/South Central; Leave @10:45am
*MJH Track 3:00pm @ Spearville; Leave @ 1:00pm
*MHS Tennis 3:00pm @ Cimarron; Leave @ 1:45pm
*MHS Forensics @ Minneola; Leave @ 2:45pm
FRIDAY, April 09:
*MHS Track 3:00pm @ Minneola; Leave @ 1:15pm
SATURDAY, April 10:
*MHS PROM!
~Promenade @ 6:15pm at the Meade City Park
~Dinner and Dance @ 7:00pm at the Forst Center