REMINDER: HS Football and Cross Country Pictures are this Friday! Picture forms are in the HS locker rooms as well as with the coaches. If you need one please get with those people. Tennis, Volleyball, and Cheer will be on August 29th.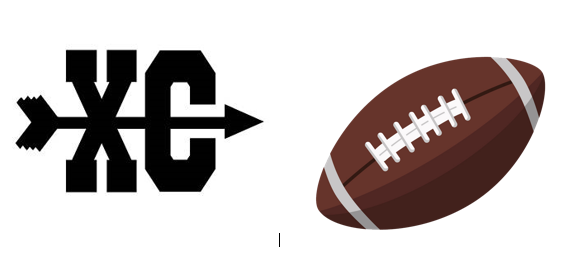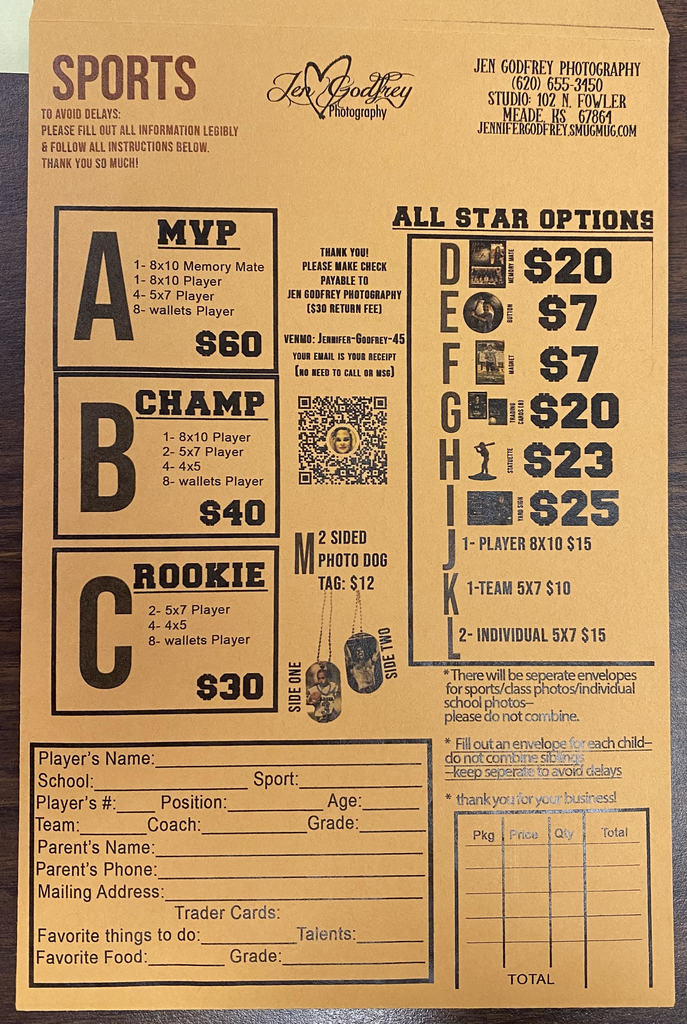 🎒 BACKPACK EXCHANGE! 🎒 We will have a table set up at MES/MJH Open House TOMORROW for "up-cycled backpacks" (along with several new ones donated by Artesian Valley!). If you have a used backpack you'd like to donate, just drop it on the table. If your student(s) need a backpack, snag one for free! We are all a part of our BUFFS family! 💜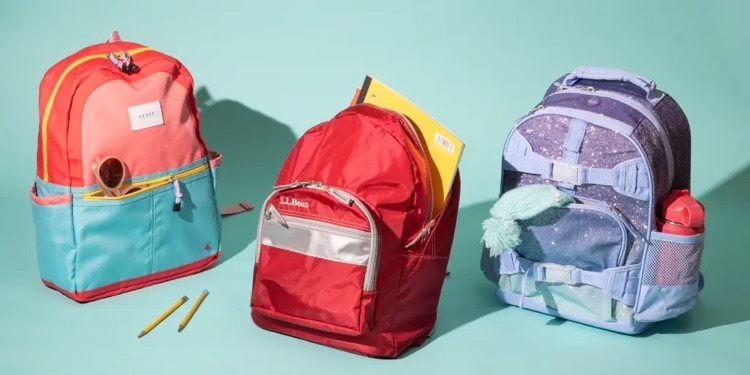 MHS Tennis is doing a T-shirt fundraiser for this upcoming season. If you would like to order some gear please get the following information back to Coach Lynn!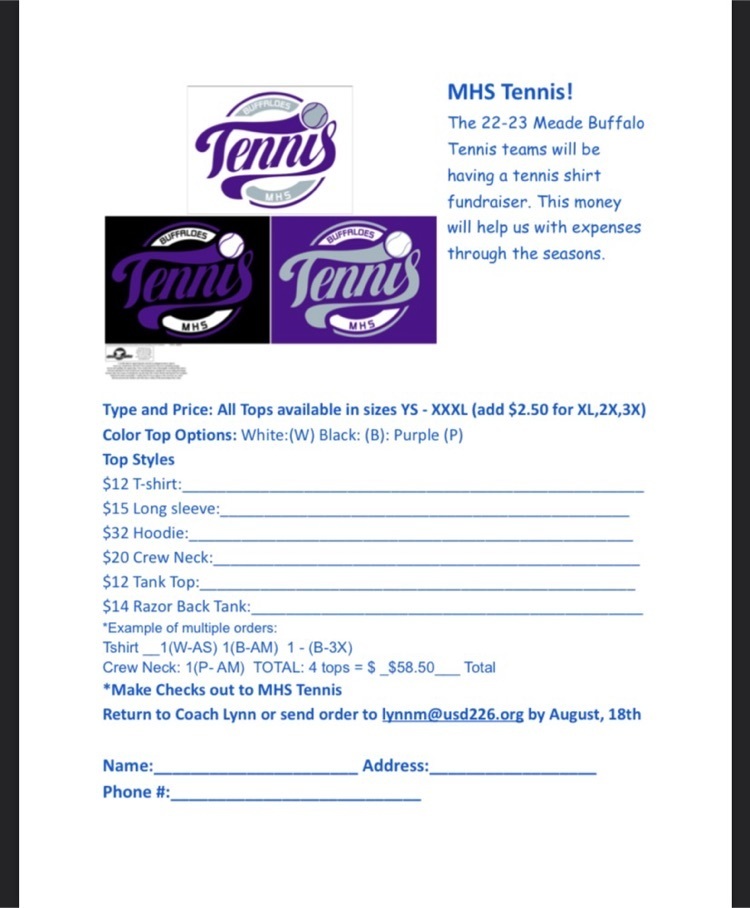 Don't forget to come out to meet your teachers👩‍🏫 👨‍🏫 , eat some dinner 🍽 , and play some fun lawn games (or even get your face painted 🎨) TOMORROW @ 5:00PM! 💜 #BUFFS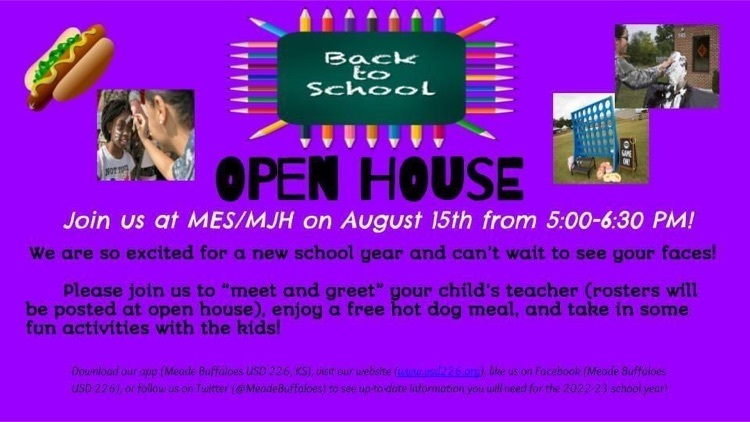 Show your MHS Volleyball pride with the 2022 team shirt! Shirts are on sale now. Orders are due by Friday, August 19th. Click on the link to complete the order form.
https://bit.ly/3PmxvJG
#WeR226 #MeadeBuffaloes #MHSVolleyball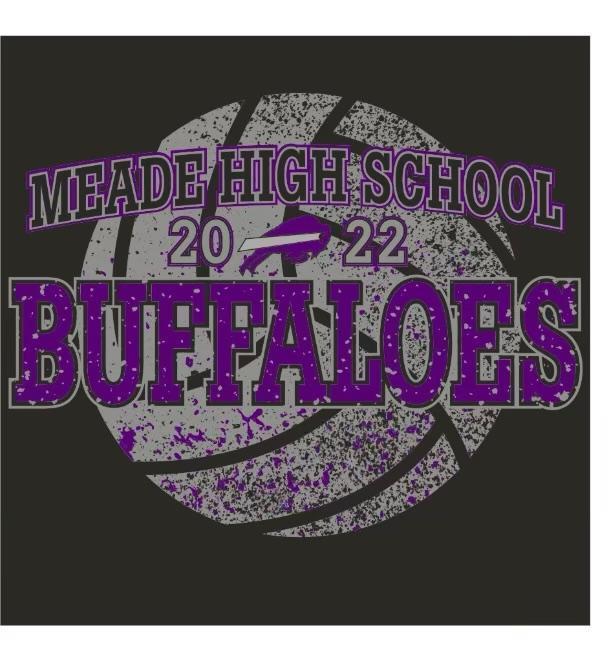 ATTENTION MHS & MJH Fall Sports Student Athletes: The attached image shows the practice schedule for next week. All fall sports practices will begin Monday, August 15th. Please know KSHSAA has updated their recommended heat policy guidelines. You can access the information at
https://www.kshsaa.org/
. Coaches will communicate any changes in practice times to their athletes. Fowler Student Athletes MONDAY Volleyball: Travis will go to Fowler to pick up ALL JH/HS Volleyball athletes at 2:30pm from the Fowler Elementary School. Volleyball will practice from 3:00-5:00pm in both gyms. Travis will pick up the JH students and then go to the high school to get those girls. ETA at Fowler: at approximately 5:40pm. Cross Country, Football, & Tennis: Travis will then pick up ALL cross country, football, and tennis Fowler athletes at 6:10pm. He will pick up the JH football players at 8:30pm then go to high school to pick up all other athletes to take back to Fowler. ETA at Fowler: approximately 9:00pm. TUESDAY ALL Fowler boys and girls, NOT playing volleyball will need to ride the after school Fowler bus home. Volleyball: All JH/HS girls will practice right after school from 1:00-3:00pm, Travis will pick up JH girls and then go up to the high school and take girls home to Fowler. ETA at Fowler: approximately 3:35pm. Cross Country, Football, & Tennis: Travis will go back to pick up Fowler athletes for FB/XC/Tennis from Fowler Elementary at 6:10pm. He will then pick up the JH FB after practice at 8:30pm and go to high school to pick up all other athletes to take back to Fowler. ETA at Fowler: approximately 9:00pm. WEDNESDAY ALL practices will be after school. Football will be checking weather. Travis will pick up JH athletes at 5:45pm then go to the high school to pick up other athletes. ETA at Fowler: approximately 6:30pm. Times may be adjusted once we know the number of athletes participating in a sport. Again, all students athletes need to be in communication with their coaches about practice times.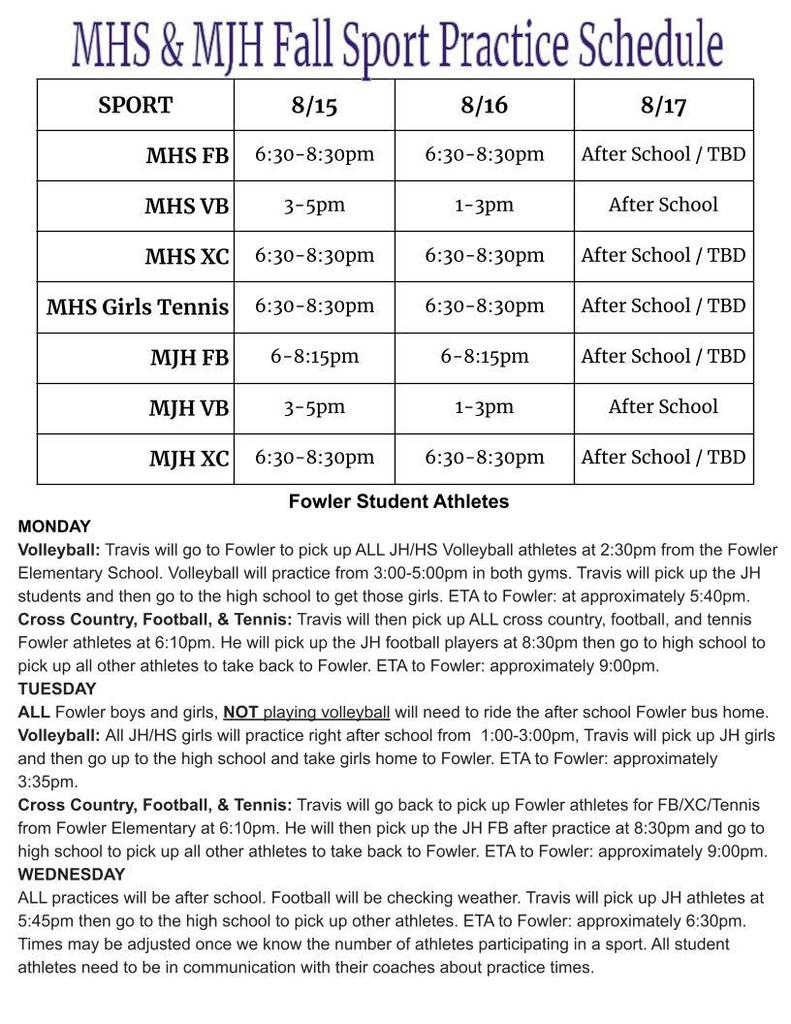 JH Football helmet and equipment checkout will begin on Monday, August 15th at 6 pm in the junior high gym. Practice will follow at 6:30 for both JH football and cross country. Also please note that JH VB practice begins at 3 pm in the JH gym.

COME OUT TO THE MEADE CITY PARK TONIGHT 5-7PM! 💜FREE MEAL - Cooked by Meade Fire Department 💜FREE BACKPACKS 💜GAMES 💜PETTING ZOO 💜BOUNCE HOUSES 💜SPLASH PAD 💜& MORE THANK YOU to Artesian Valley Health Systems for sponsoring this FUN evening!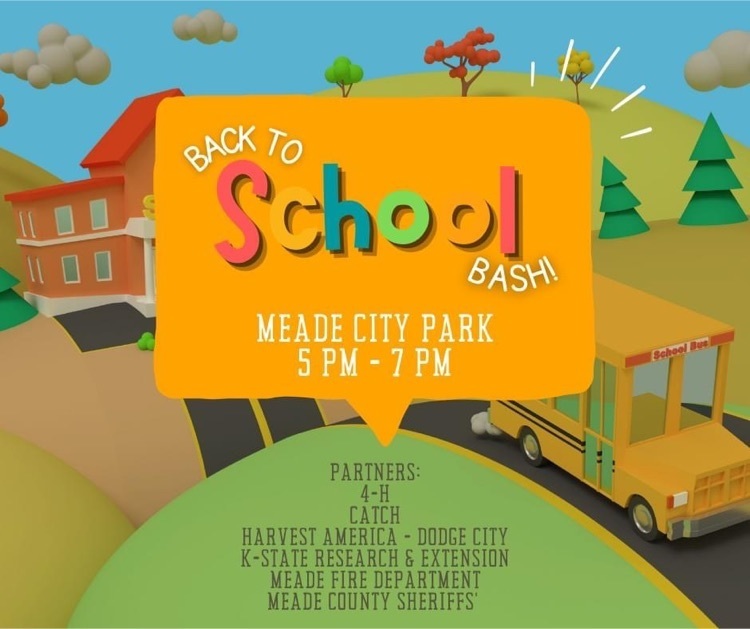 Show your MHS Football pride! Team shirts are on sale now. Orders are due by Monday, August 22nd. Thank you for supporting MHS Football! #WeR226 #MeadeBuffaloes #MHSFootball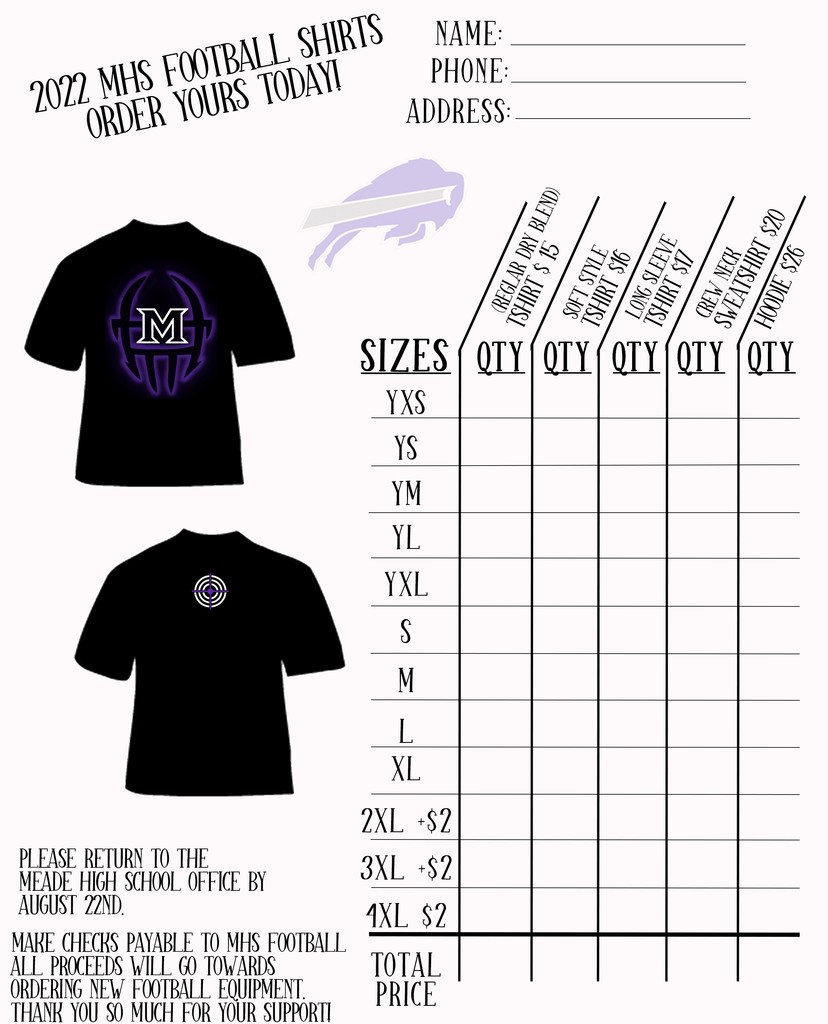 Thank you to Artesian Valley for sponsoring this back-to-school bash! Come out WEDNESDAY (August 10th) 5-7PM to the Meade City park! •free meal •backpacks •games •splash pad •bounce houses •petting zoo …and more!! Follow the event link below to stay tuned for event updates.
https://www.facebook.com/events/727123998508561?ref=newsfeed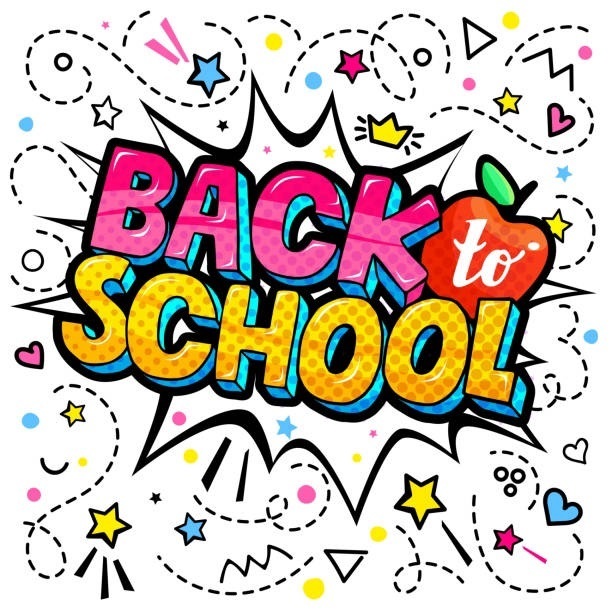 Attention all 7th-12th graders. We are having conditioning camp all of this week August 8-12th from 7pm-8pm up at the high school gym. We will be inside and outside. This will help us start to get acclimated to the heat and this is open for all athletes!

Reminder to come see us for official enrollment *even if you completed the pre-enrollment last spring online*!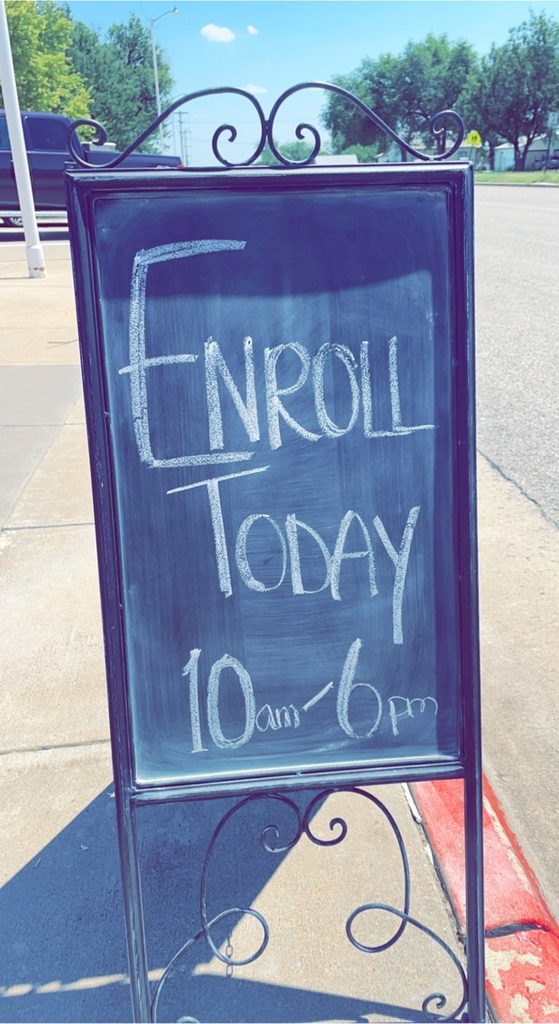 Reminder that MES/MJH enrollment is tomorrow from 10 AM to 6 PM. Also on Friday from 9AM to 1 PM. This is also for seventh and eighth grade students in the Fowler district that will attend Meade Junior High. Enrollment fees for Kindergarten through eighth grade are $60. Pre-School enrollment is free for students attending. There is a $50 chromebook fee for students in seventh and eight grades. We can only accept cash or check for payment.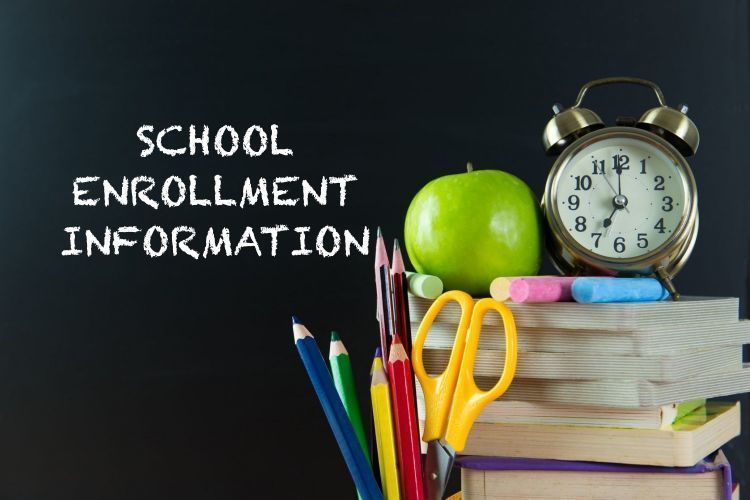 Enrollment begins this week. Save time during enrollment by completing the Free and Reduced Meals Application early. Please use the following link to complete the 2022-23 Free & Reduced Meals Application.
https://schoolmealsapp.ksde.org/Home/welcome/D0226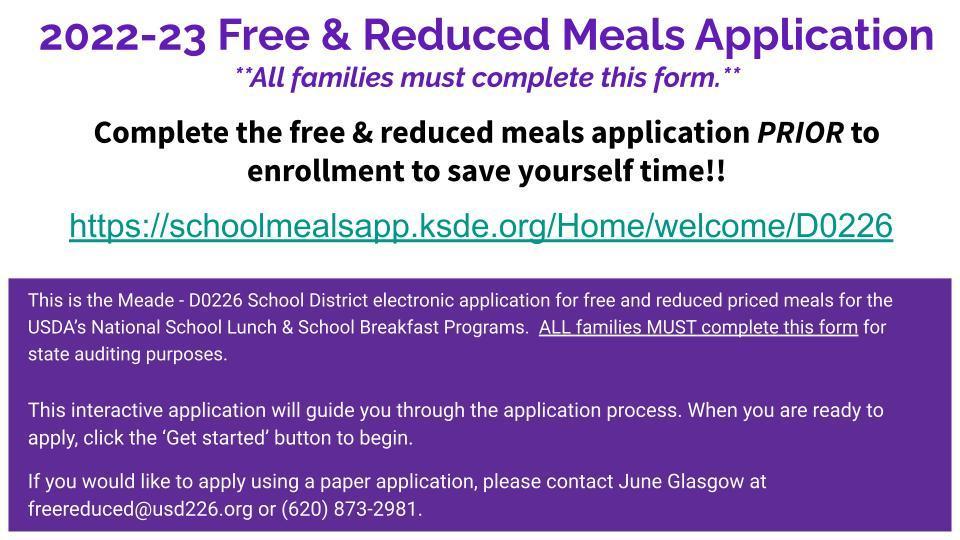 🚨Reminder: No Summer Weights for HS or JH students tomorrow, Monday August 1st!🚨

The 2022-23 school year is just around the corner! Attached is information regarding the MES/MJH Open House and USD 226 enrollment dates and fees. Enjoy the last few weeks of summer! #WeR226 #MeadeBuffaloes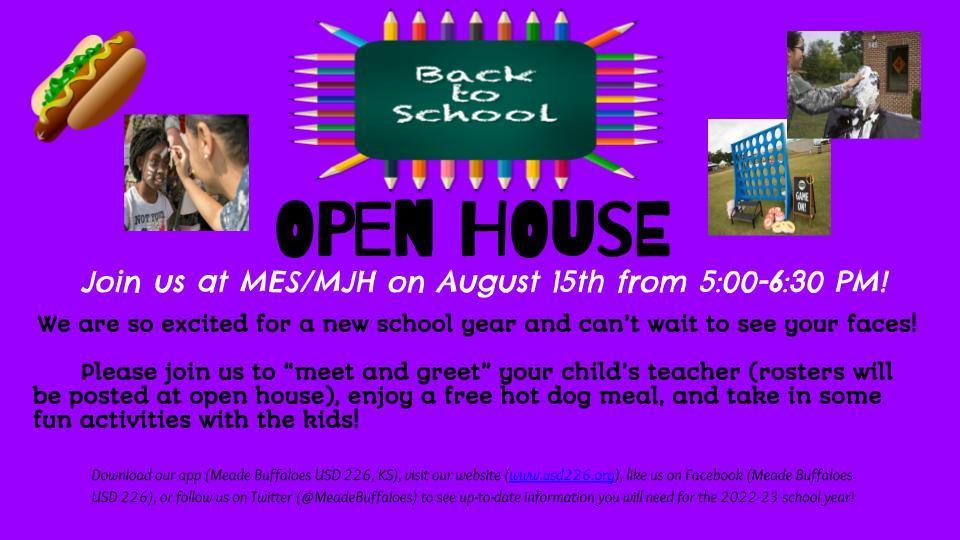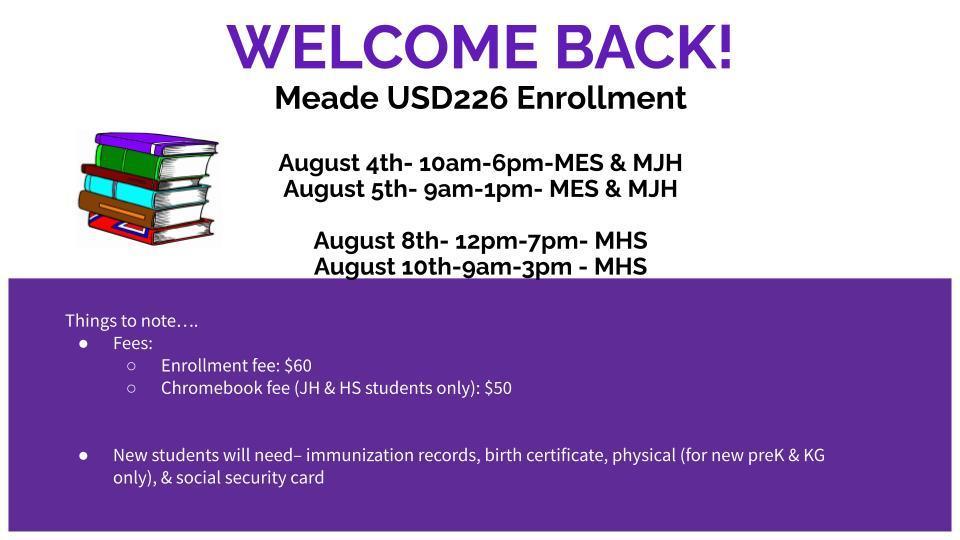 Attention 2022-23 MJH Students: There will be a Cheer team meeting on August 5th at 1:00pm at MES/MJH. Any junior high student interested in being on the Cheer team is invited to attend. Please contact Mrs. Strickland at
stricklandt@usd226.org
for more information.

MES/MJH School Supply List The school supply list is also available on our website. Click "Menu" at the top right of the home page. In the purple box click the drop-down arrow for "MES/MJH." The second drop-down item will be the 2022-23 School Supply List. Be sure to check out the USD 226 Events and Activities calendar on our website. Just scroll to the bottom of our home page and click "See All Events." You can filter the events using the list of categories in the left-side column. You can look at all the events in List View or Calendar View. Please remember there may be some additions, corrections, or changes as we progress through the year. *Enrollment begins August 5th. *First day of MJH and MHS sports practice is Monday, August 15th. *First day of school for 1st-12th grade is Tuesday, August 16th. School will dismiss at 1:00pm. *First day of school for PK and Kindergarten is Thursday, August 18th.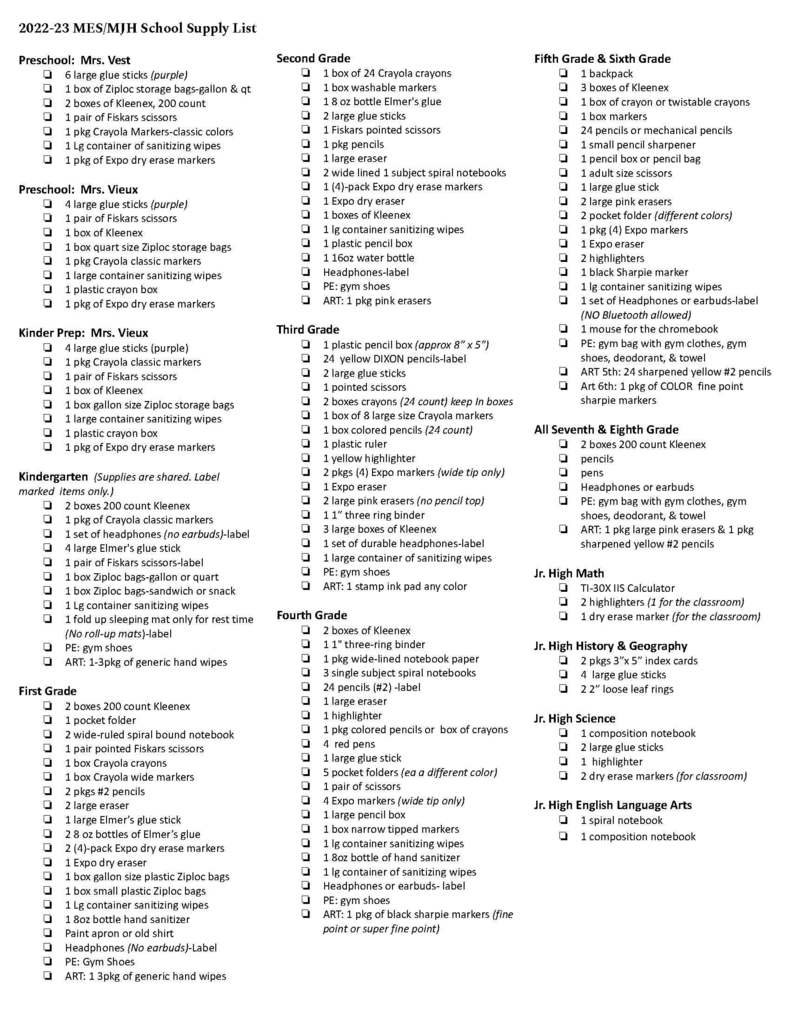 Beginning in the 2022-23 school year the National School Lunch Program will no longer provide free meals for all students. As a result, parents are highly encouraged to complete free and reduced lunch applications before school starts in August. The application process is online for your convenience. The link can be found on our district website in the Menu section, or you can visit,
https://bit.ly/3PpBeX3
. If families qualify, this will allow students to continue to eat free or pay a reduced rate for meals. Additionally, the school will receive additional funding for all students who qualify for FREE meals. Families who don't qualify for free or reduced lunch will continue to pay for meals similar to two years ago. Please remember there is a discounted price when meals are purchased by the semester. More information will be available at enrollment. Meal Prices for the 2022-23 School Year Breakfast K-12: $2.10 Reduced: $0.30 Adults: $2.50 Milk: $0.45 Juice: $0.45 Lunch K-8: $2.90 9-12: $3.00 Reduced: $0.40 Adults: $4.35 Seconds Card: $30.00/year or $1.00/day ala carte

CONGRATULATIONS Coach Daugherty! We are proud of you! "Garrett Daugherty, Head Track and Field Coach at Meade High School, has been designated the Class 1A Boys' Coach of the Year for the 2022 Track and Field Season by the Kansas Cross Country / Track and Field Coaches Association. Coach Daugherty was selected for this award due to his guidance of the 2022 Meade Buffaloes' Boys Track and Field Program and their season's success. (SPIAA League, Regional and State Champions) Every year, the KCCTFCA honors a boys and girls' 'Coach of the Year' in each classification to recognize the outstanding work that track and field coaches are doing around the state of Kansas. Coach Daugherty will be presented his award at the 2023 KCCTFCA Clinic in early January at location, date and time to be determined." #WeR226 #MeadeBuffaloes