Results for MHS Varsity Basketball vs. Bucklin 12.02.22 Lady Buffs 29 - Lady Red Aces 58 Buffaloes 76 - Red Aces 65

Results for MJH Basketball vs. South Gray 12.01.22 Girls C 6-1 B 3-4 A 21-32 Boys C 18-11 B 26-18 A 50-30

MHS Basketball - BlueJay Invitational @ Cimarron Game Schedule GOOD LUCK, MHS Basketball!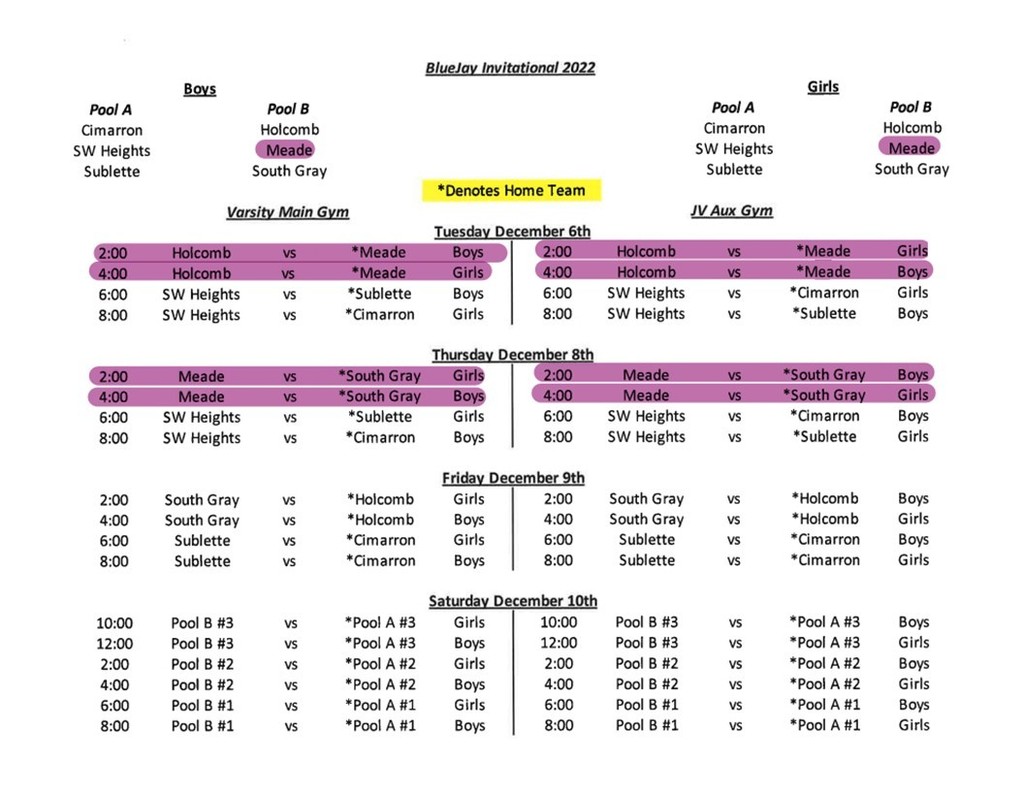 The gym in Fowler will not be open this Saturday morning for the grade school rec. students due to repairs being completed in the gym.

When it's cold outside staying warm with a Meade Buffaloes blanket is the place to be! All pre-ordered blankets ordered from Meade After Prom are done. Time is running out, and orders for Christmas will close soon. We also have a limited quantity from this pre-order. Give Kristen Stapleton or Rebecca Shewey a shout if you are wanting one. Order deadline for Christmas is Wednesday, December 14. Thank you for supporting our MHS After Prom!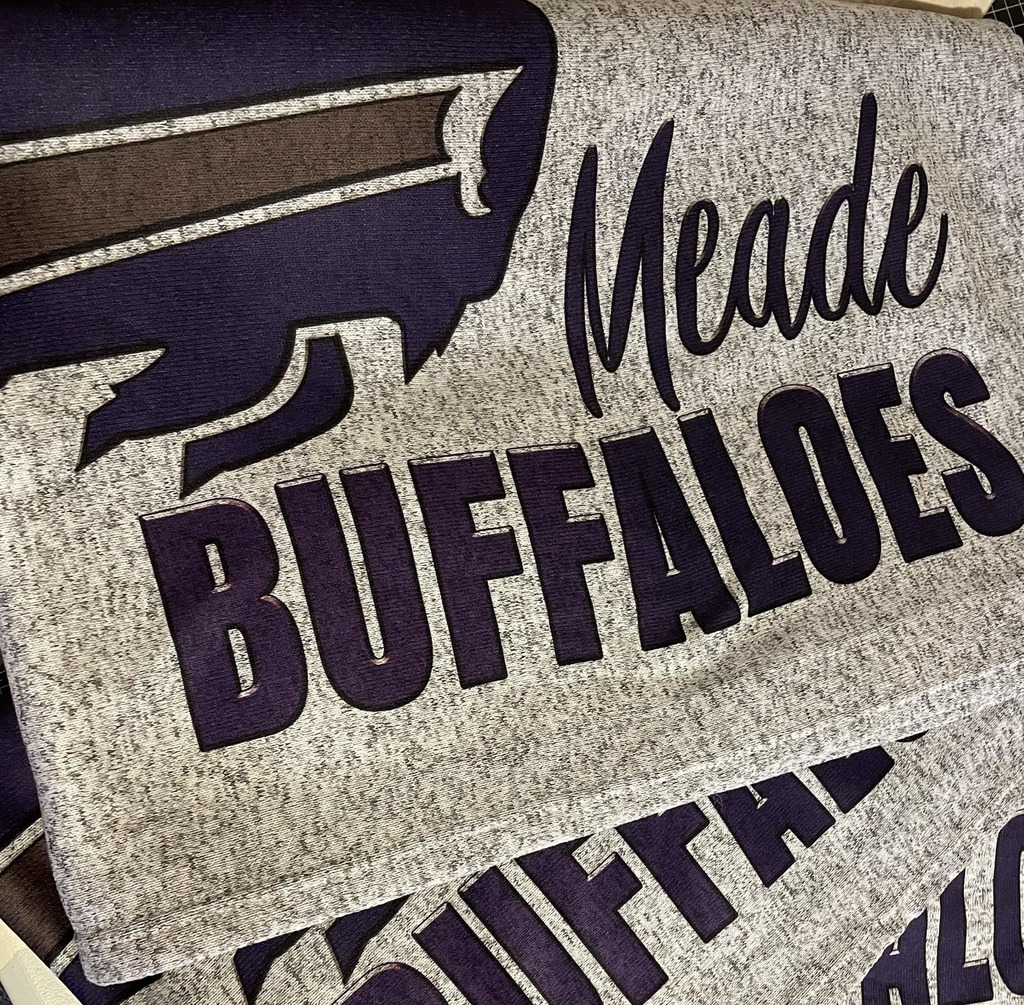 The MHS Forensics Murder Mystery Dinner Theater is BACK! Tickets are limited so be sure to purchase yours in advance. For more information contact Ms. Barnum, Ms. Coles, or any Forensics student. *Proceeds help fund State and National competition expenses.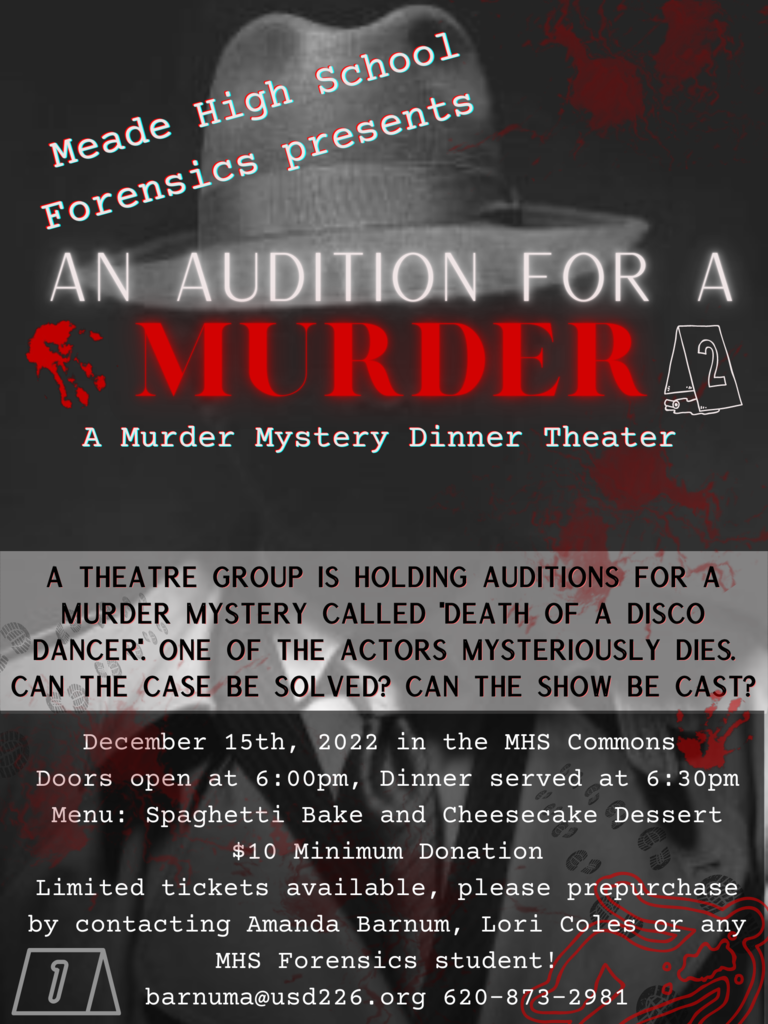 UPDATED SCHEDULE OF PLAY MHS Basketball @ Bucklin 12.02.22 Game Schedule Good luck, MHS!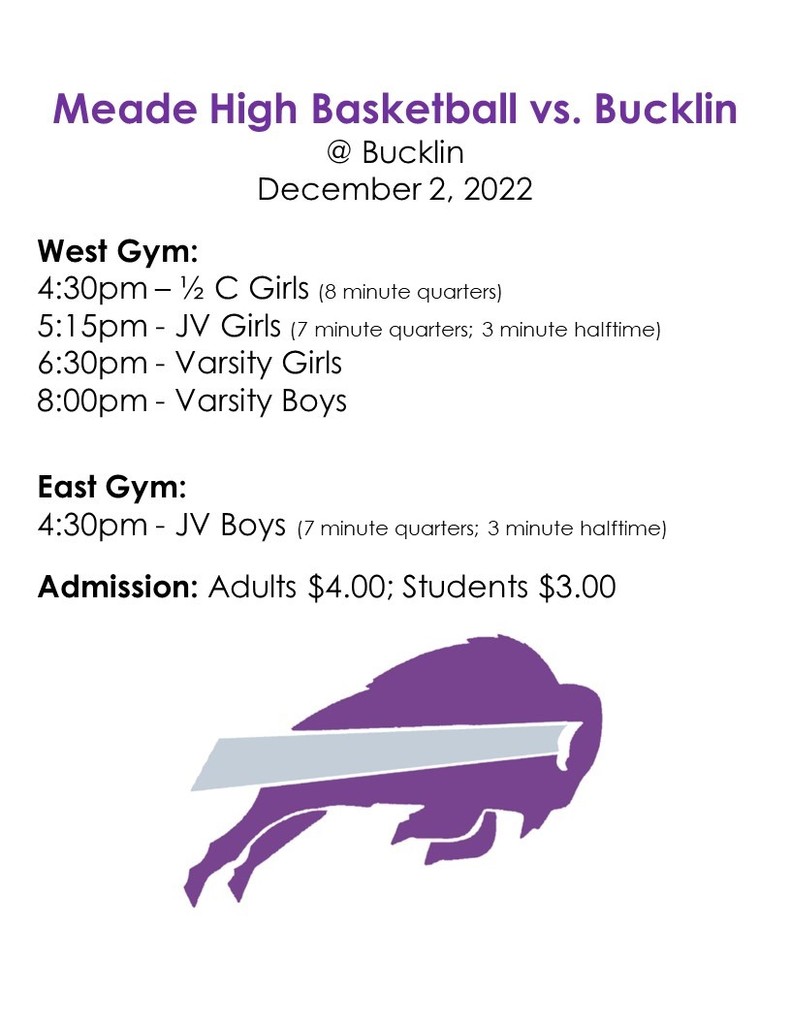 MJH vs. South Gray Basketball Thursday, December 1st at MJH Good luck, MJH!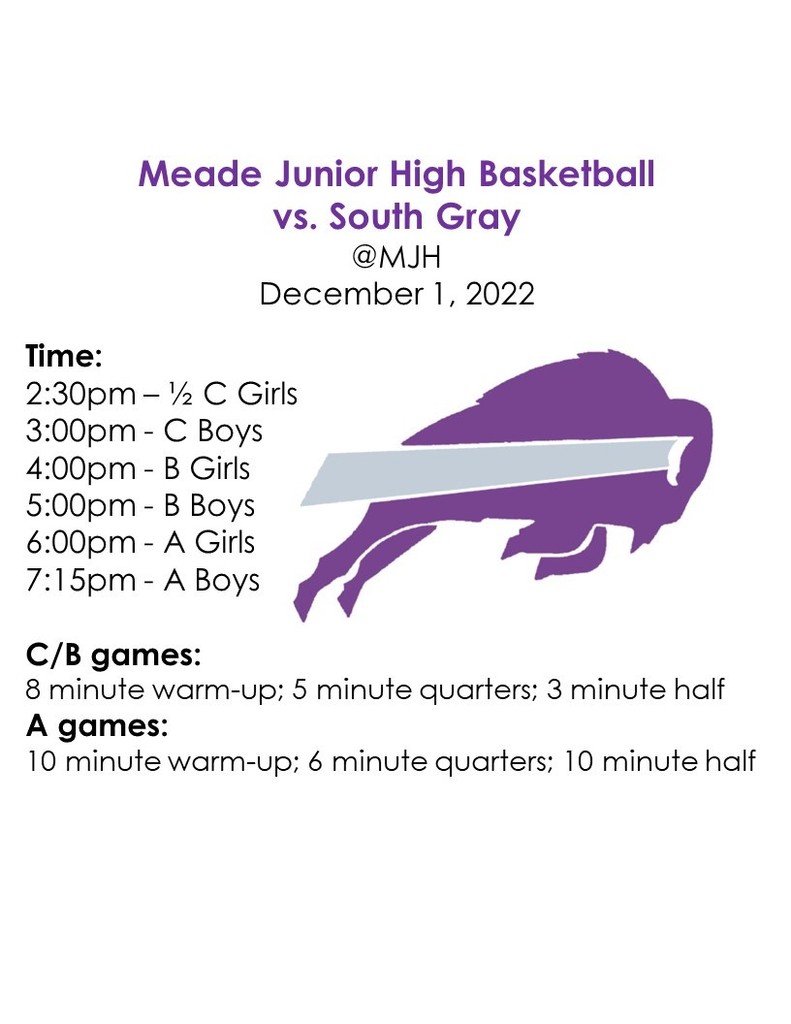 The Meade Chamber of Commerce invites everyone to the Meade City Park on Friday, November 25th for hot chocolate, the lighting of the park lights, and a visit from Santa. They will begin serving hot chocolate at 6:00pm. Santa is scheduled to arrive around 6:30pm. Please join in for an evening of fun and fellowship.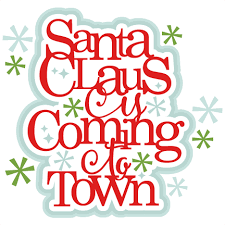 Results for MJH Basketball vs. Pawnee Heights 11.21.22 It was a clean sweep for our MJH teams! Lady Buffaloes B-Team won 28-2. A-Team won 46-10. Buffaloes C-Team won 14-2. B-Team won 39-11. A-Team won 55-18. Nice work, MJH! The next game for our MJH teams will be Thursday, December 1st when they host South Gray.

In recent months, it has been brought to our attention the rising number of families that have financial and food needs during this time. Food donations are down at this time, and the need has increased significantly. To answer the question of how significantly: one year ago the food pantry provided assistance for twenty people each month; the need now has increased to two-hundred and twenty-five people each month. If you are in a financial situation that allows you to help, we would like for you to consider sending non-perishable food items to school to be donated to the local food bank. These items can be left with the classroom teachers in the morning and will be collected and delivered to help supply the Meade Food Bank. Needed Items: toilet paper, paper towels, canned fruits and vegetables, canned meat such as chicken and tuna, peanut butter, pasta, pasta sauce, soups, cereal, cake mixes, etc. Further guidance is to purchase more of the items you purchase for your family and donate these extras to families needing assistance here in Meade County. Thank you for your generosity.

MJH Basketball @ Fowler vs. Pawnee Heights Monday, November 21st. Good luck, Lady Buffs and Buffaloes!

MHS Varsity Scholar's Bowl @ Hodgeman County 11.17.22 Holly Reimer, Orvin Dyck, Mason Olmstead, Ryker Vieux, Abbie Gipson, and Danny McLachlan were our team for this meet. Our team won 5 rounds and lost 5 rounds and had a fantastic time!

Results for MJH Basketball at Kiowa County 11.17.22 It was another great night for our junior high teams. Lady Buffs A Team: 32-25 B Team: 10-6 C Team: 11-6 Buffaloes A Team: 33-29 (OT) B Team: 21-24 C Team: 23-18 Good work, MJH!

Our Meade AfterProm is selling Buffalo shirts just in time for Christmas! Orders are due by Monday, December 5th. Thank you for supporting our AfterProm. Your support helps provide our students with a safe and fun After Prom celebration.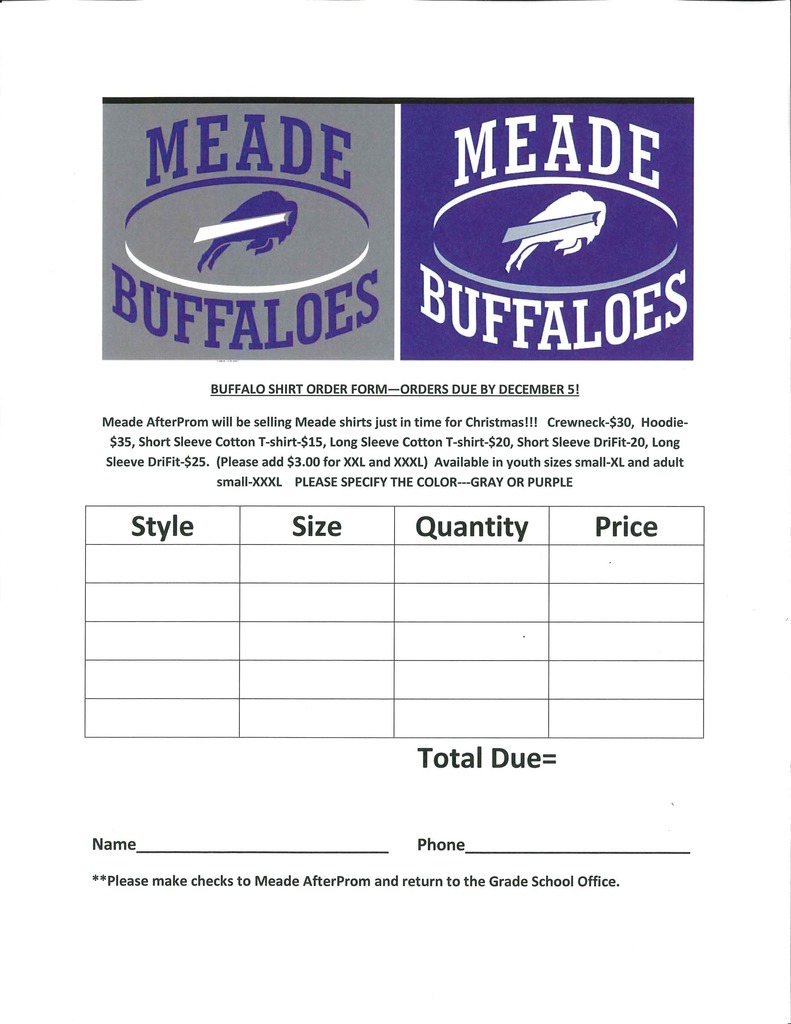 MHS Fall Athletic Banquet Our MHS Booster Club will host the annual Fall Athletic Banquet Monday, November 28th. The meal will be a taco bar. The Booster Club will provide table service, drinks, shells, taco meat, lettuce, cheese, sour cream, and salsa. Each family is asked to bring a side dish and/or a dessert to share. It will be a great evening of fun and fellowship as we recognize the accomplishments of our MHS Volleyball, Lady Buff Tennis, and Cross Country student-athletes.

CONGRATULATIONS to our JV Scholar's Bowl team! Ryker, Mason, Samadhee, Jace, and Helen earned third place at the Minneola tournament! Way to go!

Each fall, KAY clubs across the state can nominate an ACTIVE, DEDICATED AND RESPONSIBLE MEMBER to run for the office of Area President. At the Regional Conference hosted by Meade High School, Kynlee was inducted and will now serve until next November. Kynlee's duties will be: attend KAY Leadership camp, attend training sessions, write three newsletters, answer correspondence for area clubs and KSHSAA, promote attendance at KAY Leadership camp and conferences within their area, and give a 10 minute speech at the Fall Regional Conference as well as preside over all general sessions at the conference. Congratulations to our new Area V President, Kynlee Flavin.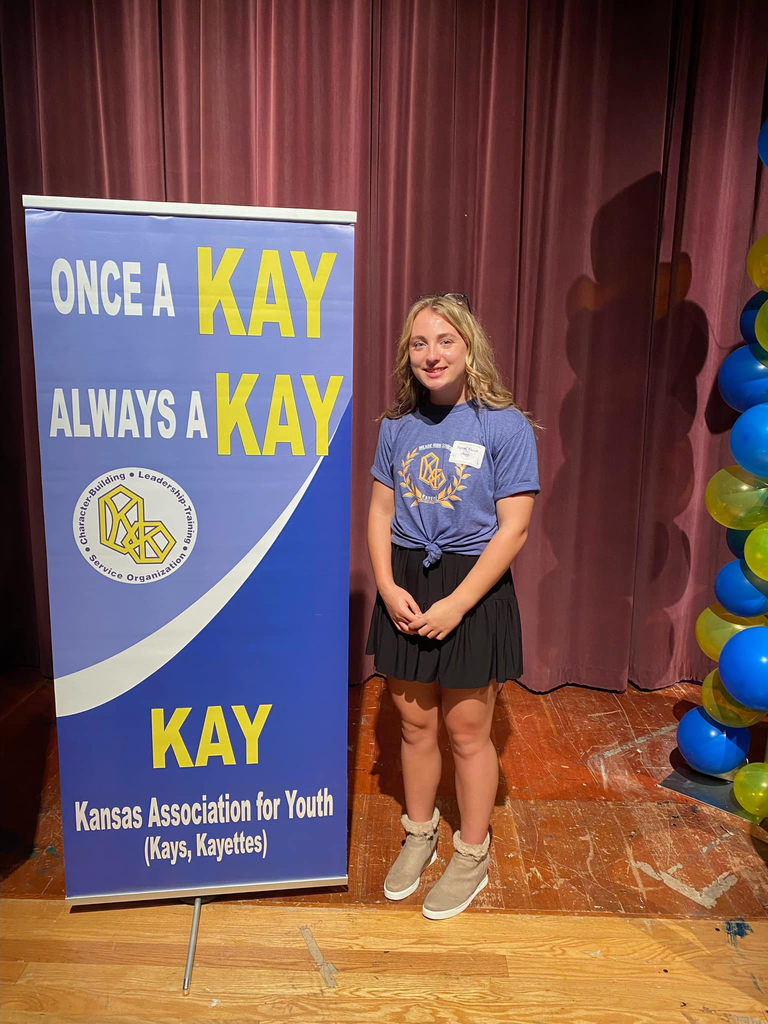 CONGRATULATIONS to our MHS Football players receiving SPIAA League Honors! Eight of our Buffaloes earned 13 recognitions! Way to work, Buffaloes!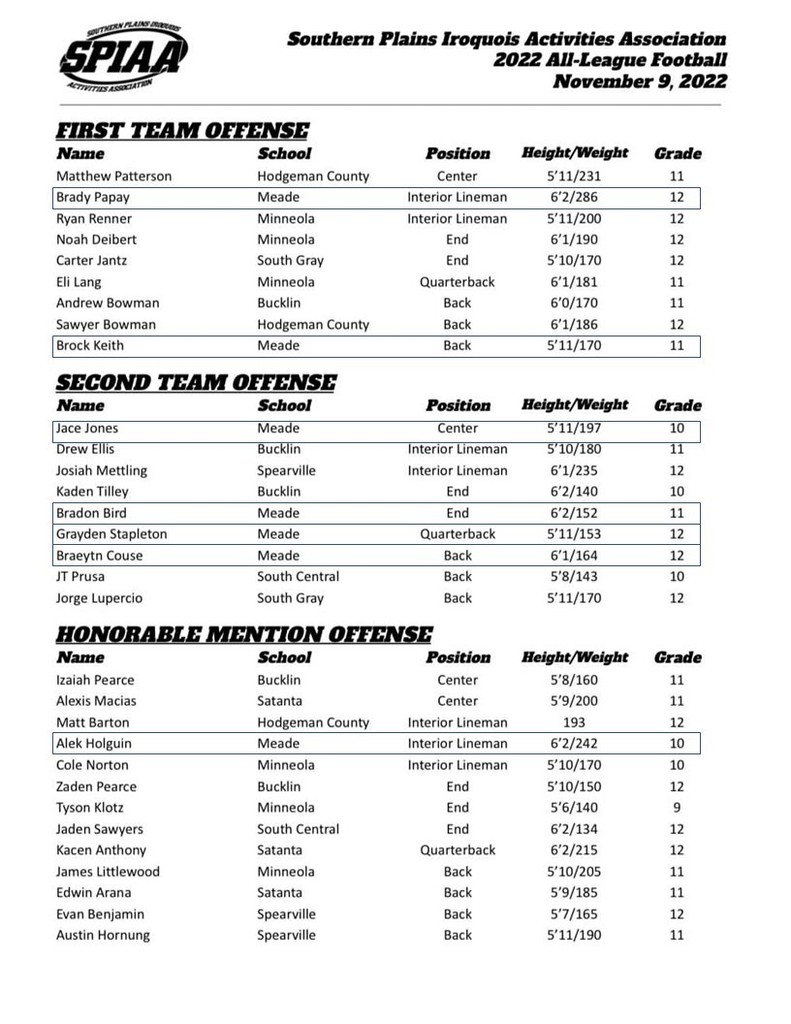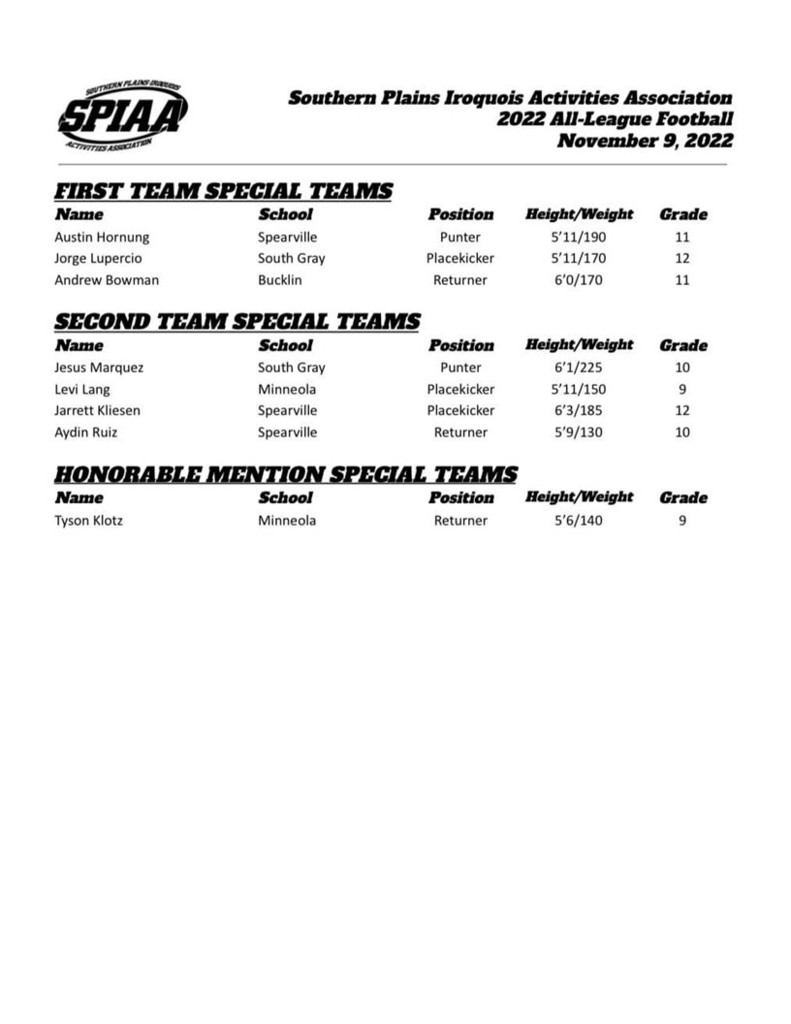 MJH Basketball @ Greensburg Thursday, November 17th Good luck, MJH!